In-Line Magnets Remove Metal from Potassium Chloride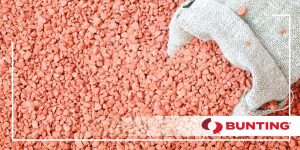 by Veronica Zuccarello — In the United Kingdom, a potassium chloride processor is using two Pneumatic In-Line Magnets (PIMS) to capture and remove small particles of ferrous metal contamination. By removing this contaminant tramp metal early in the process (during the stage when dry material is being pneumatically conveyed), processing equipment downstream is protected from damage. The two PIMS installed at this potassium chloride plant are both located outdoors.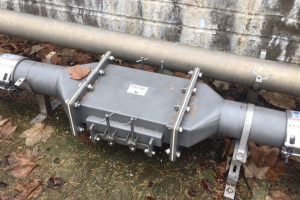 Potassium chloride, represented as KCI, is a metal halide salt that is made of potassium and chlorine. This salt has numerous applications, such as being used as a medical additive to treat low blood potassium and in food processing as a salt substitute. The most prevalent use for potassium chloride is as a fertilizer known as potash. Regardless of which application potassium chloride will be used in, it is vital that the finished product is free of metal contamination.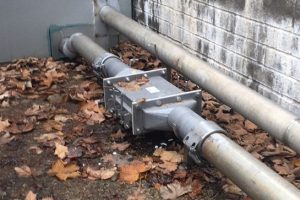 Pneumatic Inline Magnet Specification
The two Pneumatic In-Line Magnets selected and supplied for this project possess identical specifications:
– 150mm (6") inlet and outlet
– Overall length of 1320mm, or about 51"
– Both PIMS incorporate high intensity neodymium rare earth plate magnets with a tapered step design. The result is enhanced magnetic intensity and a secure collection area for ferrous metal that has been captured.
– The PIMS have been constructed with 316 stainless steel food-grade housing and contact parts designed to prevent salt-induced corrosion.
– The PIMS are suitable for pressurized pipelines up to 15 psi.
– Each of the PIMS are mounted horizontally.
– The PIMS each have a simple swing-arm mechanism that enables captured ferrous metal to be easily cleaned from the face of the plate magnet.
Advantages of In-Line Magnets
Bunting has several different models of in-line magnetic separators, and this style of magnetic separator is highly popular as it allows material to flow without any restrictions placed upon it in operation. During use, material that is either pneumatically transported or gravity-fed passes over the face of a powerful neodymium rare earth plate magnet. The tapered step of the magnet's face works to enhance the already powerful magnetic field. Additionally, this step securely holds captured ferrous metal behind the ledge and out of the material flow. Periodically, with a maintenance frequency that depends on the level of metal contamination, operators manually remove ferrous metal from the plate magnet's face.
When selecting a magnetic separator or metal detector for any application, it is vital to thoroughly consider the installation and separation objectives. Bunting's engineering team is equipped with years of experience that allows them to design and recommend the optimum solution for any metal contamination problem. To learn more, Contact us Today.