BuyMagnets.com is Front and Center at Sensors Midwest 2018 Expo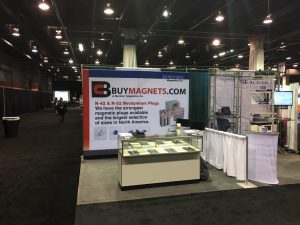 The first thing you see after walking through the doors of the Sensors Midwest 2018 Expo is the BuyMagnets.com booth. We're pretty hard to miss with the prime location right as you enter the hall. Our booth #400 has N42 and N52 magnets on display, where visitors learn how they can help their applications. BuyMagnets.com offers the largest selection of permanent and industrial magnet equipment in the industry. Our online store features Bunting Magnets in thousands of shapes and sizes, as well as a wide assortment of magnetic tools for work-holding, lifting, and plant maintenance.
The Sensors Midwest Expo takes place on October 16-17, 2018 at the Donald E. Stephens Convention Center in Rosemont, IL.
Over 2,000 engineers, engineering professionals, and scientists attend Sensors Midwest each year to connect with innovators, leaders and suppliers in the sensors industry. Ideas are shared, connections made, and solutions featuring the latest industry trends are discovered. The two-day event features over 75 exhibitors where the latest technology and products are showcased. Product categories include: acceleration, aerospace, automation sensors, chemical/gas, embedded systems, energy harvesting, flow, force/strain/load/torque/instrumentation, internet of things, level, moisture/humidity, optical, position sensors, presence/proximity, pressure, sensors/system components, software, temperature, ultrasonic, and wireless.
The BuyMagnets.com booth features our N42 and N52 magnets. Neodymium magnets have replaced alnico and ferrite in countless applications where strong permanent magnets are used in modern technology. This is due to the superior strength of neodymium, which allows for the use of smaller, lighter magnets in these applications. Neodymium magnets are the most widely used of all rare earth magnets. Some typical applications that use neodymium magnets include tape recorders, alternators, pacemakers, biasing applications, flow meters, gyroscopes, and linear actuators. Incredibly strong neodymium magnets are available at affordable prices on BuyMagnets.com. Shop our large selection of in-stock rare earth magnets and find the perfect solutions for your applications.
With Bunting Magnetics you receive superior customer service at every stage of the process. All of our magnets and magnetic products meet or exceed MMPA, ROHS and REACH standards. All in-stock products ship within 24 hours. Stop by our booth to learn how BuyMagnets.com can help in your success.
For further information on magnets and magnetic products for your applications, please contact the experts at Bunting Magnetics and BuyMagnets.com.