Bunting's HF Series Magnetic Drawers Offer Four Ways to Achieve Maximum Separation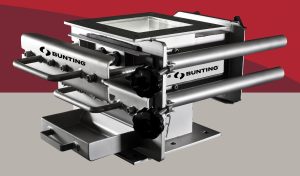 by Veronica Zuccarello
If you're interested in achieving maximum separation of contaminant materials in your process, look no further than Bunting's four varieties of HF Series Drawer Magnets. At Bunting, we equip our HF magnetic drawers with the strongest, most durable magnetic cartridge available in the industry. While strength and durability are consistent across all of our products, we designed four varieties of HF magnetic drawers in order to suit unique customer needs. Bunting offers Manual Standard, Manual Self-Cleaning, Pneumatic Self-Cleaning, and Pneumatic Continuous Self-Cleaning options, as well as the opportunity for our customers to work directly with our engineers to develop a custom-designed product that meets additional application needs and design specifications.
Cartridges on the Cutting Edge: Redesigned Neodymium Magnets for the Best Strength and Reach Out
When designing our HF magnetic drawers, we started with the most important component: the magnets. Bunting HF Drawers come standard with our redesigned NUHI™ Neodymium Ultra High Intensity Cartridge Magnet. We redesigned our product from the ground up when developing the NUHI™ cartridge and achieved an end design that is nearly 20% stronger with 50% more reach out compared to previous designs. The power of the NUHI™ cartridge results in better equipment protection and improved plant efficiency for you, as well as a purer, higher quality product for your customers.
Beyond the cartridges themselves, our HF drawer magnets have several other attractive design considerations. HF Drawers can be configured with two or more rows of cartridges, arranged in a way that staggers the cartridges and increases contact with the product stream. When material is flowing, it moves in a pattern best described as a zig-zag or waterfall. As it moves from one cartridge tray to the next, exceptionally thorough cleaning is achieved. HF magnetic drawers are an excellent choice for a wide variety of mechanical and gravity flow applications. Bunting offers utility, food, and sanitary construction grades so that whatever your application may be, your HF drawer magnet will meet all industry standards. Bunting also tackles the hard work when it comes to building transition pieces, and we will see to it that your HF magnetic drawer matches up perfectly with the existing equipment in your facility.
Magnetic Drawers for Every Application: Diverse Design Options
It's easy to find the right HF drawer magnet for your application when there are four standard options available to choose from. Our standard configuration, the Manual Standard HF Drawer, requires the operator to slide trays out of their housing and wipe them off by hand in order to remove ferrous debris from cartridges. The Manual Self Cleaning HF Drawer saves your operator the time of cleaning the magnets by hand—its magnetic cartridges are designed to fully extend outside of their housing. Grommets incorporated into this design wipe the tube assemblies clean as they travel outside their housing and ensure that no tramp metal reenters the housings or your product line.
We have two options that combine a self-cleaning mechanism with pneumatic power. The Pneumatic Self-Cleaning HF Drawer utilizes a pneumatically powerful cleaning mechanism that automatically wipes ferrous contaminants into the discharge area. The special drawer design of the Pneumatic Continuous Self-Cleaning HF Drawer allows product to flow while magnets are being cleaned in an alternating pattern. This eliminates the need for a gate to stop product flow. If you're operating in a hard-to-reach location or carrying out an automated operation, the pneumatic options are an excellent choice as they can be operated with a remote switch or a Bunting-engineered automated control package.
Bunting's HF Series Magnetic Drawers are a simple product that will deliver drastic results. Protect your customer, your product, and your brand by choosing Bunting products to support your operations. If you are interested in achieving maximum separation of contaminant metal particles from your product, contact a Bunting representative today to learn more about our HF Series Drawer Magnets and other magnetic separation products we offer for your industry.