Product Manager Spotlight: Barry Voorhees – Metal Detection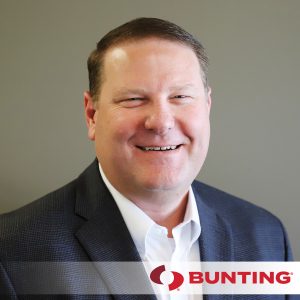 by Veronica Zuccarello
At Bunting, our greatest strength is the people who work for us. Since our company offers so many diverse products, it is essential for us to have a team of product managers equipped with industry knowledge and expertise. To showcase our product managers, we are posting a series of spotlight blogs where we have sat down and interviewed them. We're excited for you to get to know the fantastic people that we are lucky to work with every day at Bunting. Meet Barry Voorhees, our Metal Detection Product Manager!
Discovering Bunting and the World of Magnets
Barry Voorhees is a proud Kansan, graduating from Kansas State University in 1994 with a degree in Mechanical Engineering Technology. He discovered Bunting when he read an advertisement that had been placed on the K-State mechanical engineering department's bulletin board. Intrigued, Voorhees called right away to schedule an interview.
At his interview, Voorhees met with Don Suderman, who was the Engineering Manager of Bunting at the time. Today, Suderman is a fellow product manager who leads the Bunting Material Handling group. This interview was the beginning of what would go on to be an incredibly strong working relationship between the two of them. One of Voorhees's biggest accomplishments is a patent that he co-authored with Suderman.
"In the interview, I was so intrigued learning all about where magnets are used in our everyday lives, as well as learning about equipment used in the processes. From that day on, I guess you could say I was 'attracted' to the business," says Voorhees.
Engineering Success: 26 Years of Expertise
Voorhees went straight from K-State to Bunting, starting work as a Design Engineer in May 1994. He soon moved to the role of Lead Design Engineer, then transferred to Manager of Inside Sales and Estimating. In 2001, he combined his talent for management with his engineering background, becoming the Manager of Technical Services. In 2008, his role expanded as he became the Manager of Technical Services and Quality Assurance. Two years later, Voorhees became General Manager, a role he served in for seven years before becoming the Metal Detection Product Manager in 2017.
Never-Ending Innovation in the Metal Detection Industry
Barry Voorhees is an expert in metal detector technology. Metal detectors can be found in many industries—from food processing, to plastics manufacturing, to large scale recycling. One of Voorhees's favorite products is the quickTRON™ 03R metal detector, which he calls Bunting's "workhorse" for the plastics industry. There are new innovations taking place in the metal detection industry every day. One particularly notable innovation was Bunting's Image Phase technology.
"Our Image Phase technology was a huge chance to improve the sensitivity achievable with products that have bulk product effect. Being able to reduce the detection threshold around that product effect enables us to see those particles that could not be seen previously," explains Voorhees.
Barry Voorhees: A Solution Provider
Voorhees's personal motto when working with customers is to be a solution provider.  "I always make sure every customer knows we are there to help solve their issues and make their job easier every day," says Voorhees. "We never approach our customers with canned solutions. Instead, we work with them on a specific solution to solve their need and provide the right solution for them."
Voorhees is always proud to share his history with Bunting, which spans an impressive 26-year career. "I've been given great opportunities within the company during my career. I have enjoyed each and every position and doing my job every day," says Voorhees. "My current role as a product manager allows me to use my engineering background and make a difference for our customers. Seeing new applications, finding solutions for each customer, and learning something new each day is very rewarding for me."
After 26 years of service, Voorhees is still looking towards the future and setting new goals for Bunting.
"I hope in the future that every customer or prospective customer will think of us first when they have a need for a metal detector," says Voorhees. "When someone mentions metal detection, I want Bunting to be the first thing that comes to their mind." 
To learn more about Bunting's metal detection products, Connect with Barry or Contact us directly