Drawer Magnetic Separation for Superior Plastics Protection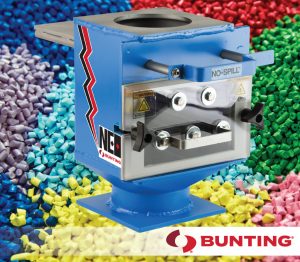 by Veronica Zuccarello
When working in the plastics industry, one of the most important factors is efficiency—accomplished with a high product purity and as little downtime as possible. If raw plastic material has any kind of metal contamination, not only can the end product be compromised, but equipment within the facility may be damaged as well. Magnetic separation equipment from Bunting allows plastics manufacturers to achieve comprehensive removal of ferrous metal contamination from their raw plastic material. Bunting first became known for FF Series Drawer Magnets over 50 years ago, and they remain one of our most popular products today.
Bunting's FF Series Drawer Magnets: A Higher Standard for Magnetic Separation
Plastics manufacturing can take on many forms, and whether you are working in extrusion, injection, or blow molding, Bunting's FF Series Drawer Magnets can be custom designed and implemented to fit at any stage of your production process. They are an excellent choice for virgin or recycling plastics manufacturing operations, and work by using powerful neodymium magnets to capture and hold all manner of ferrous particles—even those that are small enough to be invisible to the naked eye. By removing these tiny ferrous particles, FF Series Drawer Magnets deliver a higher level of magnetic separation that results in maximum product purity. FF Series Drawer Magnets are capable of holding 10,000 lbs of weight.
FF Series Drawer Magnets also excel at capturing and holding larger sources of ferrous metal contamination commonly found in the plastics industry, to include items such as nuts, bolts, nails, and screws. If metal contamination of any kind is allowed to remain in the product stream, the result is often thousands of dollars' worth of damage to essential equipment. If equipment is damaged, not only is it expensive to repair and sometimes even replace equipment, but it also leads to extremely costly periods of downtime. When equipment becomes inoperable due to damages caused by metal contamination, you lose valuable time that could have been spent manufacturing product and growing your operations. Rather than allowing harm to your injection molding equipment, grinders, extruders, nozzles, or mixers, you can protect your product and your equipment by installing compact, powerful magnetic separation from Bunting at key points in your production line.
Bunting's FF Series Drawer Magnets are desirable to the plastics industry not only for their pure strength, but also for their durability and design elements. Bunting makes industry-targeted solutions, and when designing the FF Series Drawer Magnets for the plastics industry, our engineers considered what problems were unique to those working in the plastics industry. One common problem in magnetic separation equipment is the risk of demagnetization that can occur if magnets are exposed to high temperatures—temperatures that are common in injection molding applications. Our FF Series Drawer Magnet design is the only temperature-compensated rare earth drawer magnet on the market designed especially for tolerating this challenge associated with injection molding machines. Within our greater line of FF Series Drawer Magnets, we've gone on to create the FF350 High-Temp FF Drawer Magnet, which can withstand temperatures of up to 350º F.
Bunting has a dedicated manufacturing area for FF Series Drawer Magnets, which means you will receive your equipment fast once you place your order. Our FF Series Drawer Magnets are available with extensive customization options, meaning you will be able to select the perfect product for your unique application. Our dedicated manufacturing area means that we can deliver short lead times, even on custom designed orders. On average, it takes less than a week for your equipment to be ready and shipped out to you once you place your order.
As the originator of the FF Series Drawer Magnet, Bunting is the industry world standard when it comes to magnetic protection for plastics processors. By listening to the needs of our customers, we are able to deliver products that meet their exact needs and solve their most frustrating problems. Our FF Series Drawer Magnets provide the plastics industry with superior protection from metal contamination, protecting your equipment from damage and allowing you to deliver the highest quality, highest purity plastics product.
To learn more about Bunting's drawer magnetic separation products, Contact us directly