Bunting Wraps Up a Successful 2019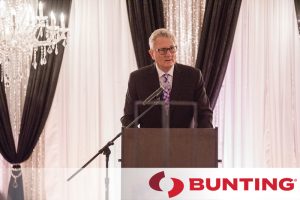 by Bob Bunting, President
I've just adjusted to writing 2019, and now I'm expected in less THAN 30-days to write 2020. I'm sorry, but that's just too high of expectations for me. Time to slow it down…well I guess I have no choice as it regards time. It moves on with or without me, so I choose to stay around. And yes, I will write 2020.
Time did move on in 2019. After 60 years, Bunting Magnetics Co. became Bunting-Newton and Bunting-Elk Grove Village. Magnet Applications, Inc. became Bunting-DuBois. Master Magnets Ltd became Bunting-Redditch. Bunting Magnetics Europe Ltd. finished out the rebranding becoming Bunting-Berkhamsted. The famous Bunting Magnetics globe logo, along with Master Magnets and Magnet Application logos, all became…well one new logo ready to become as famous as its predecessors.
We started 2019 as separate companies, and ended the year as One. One brand. One focus. Or as the new Bunting tag line states:

GLOBAL. MAGNETIC. FORCE.
The New Year will be exciting. The 2020 sales budget and an updated 5-year strategic plan are set. I'm also excited to announce a major building expansion at Bunting-Redditch that will consist of a 50% expansion to its manufacturing area, and a third floor office addition. Yes, I said a third floor. Part of the shop expansion included the demolition of some office area. Work has started with a completion date of August 2020. Bunting-Berkhamsted has just completed its exterior upgrade, and has a 2020 schedule that includes interior improvements. At the Newton 500 Building, Rob Clausing, Lean Deployment Leader, along with a selected team, are planning to relocate the magnet cylinder assembly area closer to the machine shop. The goal is to save steps and unnecessary movement. Already started is the demolition of the 500 Building shop washrooms.
The Newton 600 Building is being transformed into the Bunting Customer Experience Center. Over the past two years, we have displayed show equipment to demo and do customer testing. We have been pleasantly pleased with the reaction of customers who have taken an active part with testing. Plans are being put in place to do interior demolition and upgrades that will include customer testing areas for all Bunting products, and an active trade show display along with an R&D area. You know, it seems to me that every Bunting location should have a Bunting Customer Experience Center.
With Bunting-Elk Grove Village having already transformed itself with lean and 5S, Bunting-DuBois is in the early stages of automating its manufacturing area. Its machine shop has been relocated to allow the building of an internal automation center that will house up to two custom-manufactured machines for a specific customer.
Export sales are an important part of our planned growth. To support our exporting goals, I'm excited to announce the hiring of Chris Gabriel and Stefano Maiaroli who will handle European sales for Bunting. Chris is located in Vienna, Austria and Stefano in Treviso, Italy.
Well, if your attention span is as short as mine it's time for me to close out my attempt to brag on the Bunting happenings. I hope you are as excited as I am with the boundless opportunities in front of us all. A new decade renews our spirit to do better for ourselves and our families.
Do yourself a favor, read a book to a child in 2020.