Plastic helps the environment, but recycling lags
January 30, 2015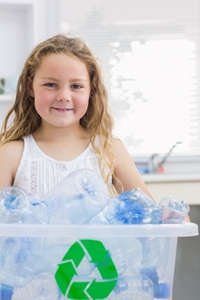 The widespread use of plastic in packaging and other products has diminished humanity's environmental impact in many ways, but recycling rates are still too low. The plastic industry continues to improve their products' sustainability while creating new items that enrich people's lives, but consumers are not disposing of plastic in ecologically friendly ways. As plastic production grows and companies invest in more injection molding machinery to keep up with various industries' demand for new plastic products, world governments and industry leaders will need to promote an increase in recycling rates.
An environmental boon
While waste plastic takes many years to decompose, plastic products generally have a positive environmental impact. Plastic packaging is hugely valuable in food storage, as it keeps items fresh for a longer period of time than other containers. This leads to less food waste, and allows food producers to ship products across the country in fewer shipments, thanks to more durable and efficient container shapes.
Cars made with plastic components also have a smaller environmental impact than those that use metal. Plastic's light weight enhances these vehicles' fuel economy and makes body and interior panels more durable.
Plastics, and the benefits they bring, expand into more markets every day. A new study from Vital Signs found that plastic production has increased by an average of 8.7 percent annually for the past 50 years. Unfortunately, it did not find similar growth in recycling rates.
Low rates but potential for change
Vital Signs reported that just 9 percent of post-consumer plastics in the U.S. was recycled in 2012. The remainder of the plastic used by individual consumers gets discarded. While some of that plastic is pulled out for recycling at a later point in the chain, much of it ends up in landfills, where it will not decompose for hundreds of years.
Recycling rates have already begun to improve since 2012, but they need to increase further to achieve greater sustainability for plastics. One common plastic item that experienced rapid recycling rate growth in the U.S. is the ubiquitous plastic bottle. Last year, the PET bottle recycling rate sat slightly above 30 percent, according to Plastics News. That result followed years in which the recycling rate for these bottles increased steadily.
The high recycling rate for these bottles is likely related to relatively clear messaging from waste collectors and bottle manufacturers regarding the bottles' suitability for recycling. Unfortunately, many consumers are not as clear on whether they can recycle other items.
Improve education to improve recycling performance
In a study conducted by the Institute of Scrap Recycling Industries, 28 percent of consumers said they were confused about what plastics could be recycled. They attributed poor recycling performance to this confusion. As plastics are used in more products, this problem may intensify. Waste collectors and plastics producers need to work together with government agencies to properly educate consumers on what can be recycled.
Governments around the globe have created aggressive recycling targets for the next few years, and many of these programs incorporate better consumer education. While the current recycling rate could be improved, it will likely jump up in the coming years, and result in more material handling machinery sales to recyclers.