Magnetic Separation Equipment Assists in Disaster Recovery

After severe weather and natural disasters strike, magnetic separation equipment from Bunting Magnetics can help clean up communities and recycle debris.
by Veronica Zuccarello
As temperatures begin to heat up in May and June, many Americans start their summer not with joy, but with fear. For some people, warmer weather is associated with vacations and enjoying time off from school, but for many others, warm weather is associated with terrifying storms and the massive destruction they can bring to communities. As of June 10, 2019, there have already been 25 EF3 tornadoes, categorized as causing "severe damage," as well three exceptionally powerful EF4 tornadoes, categorized as causing "devastating damage." In addition to tornadoes, the Midwest has been in major distress since spring due to extreme flooding that has left entire cities underwater, including a significant portion of Offutt Air Force Base in Nebraska. These are just the events of 2019—few Americans have forgotten the annihilation brought by Hurricane Katrina in 2005, as well as the more recent destruction brought by Hurricane Harvey in 2017. These storms cause massive damage and leave businesses, homes, and farmland in ruins. Fortunately, new technology, including magnetic separation technology from Bunting Magnetics, has been able to help in cleaning up and rebuilding communities.
When a massive tornado rips through a community, it tears roofs off of buildings, uproots power lines and trees, and tosses vehicles around like toys. This leaves a huge trail of unsorted debris, often containing highly valuable material. Rubber tires, sheet metal, asphalt shingles, lumber, concrete, furniture, pipes, refrigerators, air conditioners, televisions, and computers are all materials that are picked up and thrown about by the strong winds of tornadoes. Other natural disasters, such as hurricanes and floods, create masses of debris in the same way, but with the added trouble of water damage and creating submerged areas. Aside from the concern of finding a way to pick up and recycle debris, there is another concern: how to safely handle potentially hazardous debris. Hazardous materials, such as oil, pesticides, solvents, and even radioactive waste materials, can be mixed in with other materials, making it extremely dangerous for workers to pick things up by hand, even when wearing safety equipment.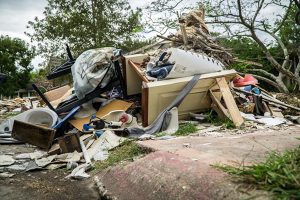 Natural disasters in the United States are of great concern to the federal government. In response to this concern, the Environmental Protection Agency has created guides regarding how to safely handle the debris left behind after a severe weather event or natural disaster occurs. One suggestion the EPA lists is using cranes with cables and magnets to help pick up and sort debris. This way, a crane can hang a suspended lifting magnet over a large stack of debris, pulling out large metal materials and leaving non-metal materials behind. This is a strong first step to take in sorting through debris, especially since metal materials are often heavy and carry the additional risk of tetanus. A magnetic lifter attached to a crane helps sort out large metal debris, such as refrigerators, as well as smaller metal debris, such as hubcaps. Removing these high-value materials early on helps save transportation costs by being able to send them directly to a recycling facility instead of having to sort through them at a general landfill before sending them onward.
These cranes are an especially useful option when you consider areas that have been damaged by flooding. The crane is able to remain on a safe, firm stretch of ground, lower the magnetic lifter into standing water, and remove metal that is hidden beneath the surface. This saves cleanup crews from having to wade into flood water and attempt to haul debris out. It also allows metal debris to be removed promptly without needing to wait for waters to recede. The powerful reach of a magnet can help lift debris out of other areas that would be difficult for human teams to access safely, such as deep ditches or areas blocked off by fallen trees.
A great deal of metal debris will still be trapped within rubble as it is hauled out of communities and taken to landfills and recycling centers. For "green waste," which includes materials such as soil, branches, lumber, and other vegetation, it is of particular concern that this material gets properly sorted, as it can easily be recycled into mulch or compost. Other materials, such as concrete, bricks, and asphalt, can be broken up and reused as well for new construction or paving projects. However, none of these materials can be appropriately recycled if they are laden with hidden metal contaminants. When running material through a wood chopper, for example, the equipment could be severely damaged if a piece of lumber being processed still had nails within it. Metal trapped within other materials can not only damage equipment, but can also harm people later down the line. If a metal fragment was left behind in processed mulch, a gardener could cut open their hand and be at risk for infection. Similarly, metal left behind in recycled asphalt could puncture a motorist's tire. Equipping recycling and waste facilities with metal separation equipment helps prevent outcomes like this from occurring.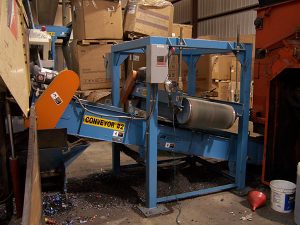 Bunting Magnetics has developed many different varieties of equipment for separating metal in recycling facilities. Magnetic separation pulleys can replace existing head pulleys on a conveyor so that as material is moved throughout a facility, metal fragments are extracted from it without needing to add any additional steps to the existing recycling process. Suspension magnets, permanent overband magnets, and electromagnetic overband magnets can be suspended above conveyors in a variety of different ways to separate metal contaminants from the greater flow. Once materials are discharged from a conveyor, they can flow over a drum magnet installed at a discharge point as yet another way to remove contamination. None of these equipment options interrupt the existing flow of the facility, but instead incorporate magnetic separation technology seamlessly to increase efficiency and material value. Magnetic separation allows facilities to gain valuable scrap metal as well as ensure other recycled materials, such as plastics and rubber, are properly sorted to ensure high product purity.
As humans, there is only so much we can do when faced with the sheer power of nature. Fortunately, once the storms pass, we have more and more options to help us rebuild our communities and find value in scattered debris. With our main location in Newton, Kansas, Bunting Magnetics is very familiar with the threat of tornadoes and other severe weather. Our magnetic separation technology first helps in the initial cleanup of damaged areas, taking care of heavy lifting and pulling out potentially hazardous metal debris. When the rest of the rubble is brought to landfills and recycling facilities, magnetic separation equipment assists by extracting scrap metal for additional recycling profit as well as ensuring other recycled materials are free from contaminants.
When a storm leaves behind devastation, magnetic separation technology goes a long way in helping communities recover and rebuild. If you are interested in learning more about the wide range of equipment Bunting Magnetics offers, which also includes metal detectors, conveyors, and additional separation equipment, please reach out and contact us here.