Bunting Introduces NEW Lockdown School Security Magnets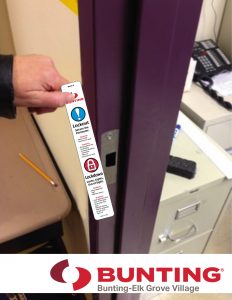 by Veronica Zuccarello
Lockdown magnets, also known as school security magnets, have been developed as a way to protect students, educators, and school staff from the ongoing threat of violence within schools. Lockdown magnets are an ideal solution because they are simple to use, affordable, and most importantly, fast acting.
To use a lockdown school security magnet, you simply lock the door of your room, and then cover the latch plate of your door with a lockdown magnet. With a lockdown magnet, you can keep your door locked but open and close the door as though it is unlocked, keeping the magnetic strip in place. In the event of an emergency, quickly remove the lockdown magnet from the door and your door will be locked immediately. School and office security magnets allow people to freely come and go as a part of day to day life, but during an emergency, they ensure your door is locked and your room is secured in seconds.
School Security Magnets: An Innovative Solution for a Challenging Problem
School security magnets are designed with the unique challenges of schools in mind. They are inexpensive, meaning that schools operating under even the tightest budgets will be able to easily implement these magnets as a safety measure. School security magnets do not demand that expensive renovations be made to a building, making them a far more reasonable option than other security solutions. They are lightweight, allowing for an elderly teacher or even a younger student to quickly and easily deploy this safety measure in an emergency event. Since school safety magnets are simple to understand, a young student is again capable of jumping to action if they must. Similarly, since lockdown magnets do not require any training to use, substitute teachers will be able to efficiently defend their classroom in an emergency event as well.
School security magnets are not only for schools. We unfortunately live in a world where random acts of violence do not discriminate. Lock down magnets are an excellent accessory for university classrooms, houses of worship, office buildings, hospitals, exercise and recreational centers, daycare facilities, and more. In situations where quick action is essential, Bunting lockdown magnets are an excellent product to have in your security toolkit.
For more information about our door security magnets, please Contact our Sales Representatives at Bunting-Elk Grove Village. We look forward to discussing how our lockdown magnets can help improve security in your school, classroom, office, church, or other location.