Bunting's Bread Pan and Baking Pan Magnets Keep Your Holidays Happy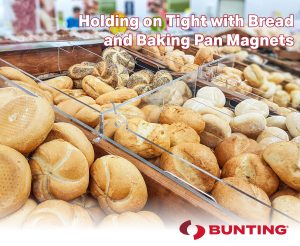 by Veronica Zuccarello 
In December, kitchens across the globe are bustling with activity as cookies for Santa, fruit cakes, pumpkin pies, and any other holiday treats you can imagine are being baked for the season. This is an exceptionally busy time of year for the baking industry as customers purchase items such as dinner rolls and breakfast foods such as breads and muffins to save time in the kitchen while still feeding large tables of visiting family members.
Feeding family members isn't the only seasonal concern. For many fast food restaurants, a popular way to drive business has been by releasing exclusive seasonal items that customers will be eager to try out. Looking at the chicken sandwich craze of the past few months, it's highly likely that 2020 will be full of similar trending items that will demand unprecedented amounts of buns.
For customers in the baking industry, bread pan and baking pan magnets from Bunting-Elk Grove Village are an excellent way to keep your operations flowing smoothly even during the busiest times of year.
Holding on Tight with Bread and Baking Pan Magnets
Bunting bread and baking pan magnets use powerful rare earth magnets to hold your pans in place on your racks. We know the baking process can be a bumpy ride, but even if some bumps along the way have dented or warped your pans, our magnets can support them just as well as if they were brand new. Our magnets are simple and easy to use, and you can quickly adjust them to sit laterally or vertically.
Don't Sweat It: Bunting Bread and Baking Pan Magnets Resist Moisture
Excess moisture can be a recipe for disaster in many situations. Bunting has anticipated the chaos moisture can cause by designing our magnets with a unique sealed structure. This locks out moisture that could potentially degrade the magnet, and saves you the cost of replacements. By keeping moisture low, we keep your profits high.
Bunting's Samarium Cobalt Baking Pan Magnets Take the Heat: No Need to Get Out of the Kitchen
If you need magnets to support your production line as pans move through ovens, Bunting has designed pan magnets specifically for ovens. Our oven line magnets are constructed out of samarium cobalt in order to achieve firm holding power and withstand oven temperatures of over 575 degrees.
Bunting Checks Our List Twice: Custom Designed Products for YOUR Industry
We don't create generic magnets—we design all of our products with the industry they serve in mind. Like Santa checking his list, we can give you exactly what you're wishing for in a product this year.
For more information, Contact Us Today at Bunting-Elk Grove Village with your wish list, and we'll make sure you're full of cheer all year long by working with you to provide the best product for your industry needs.