Up to $5,000 Hiring Bonus!
(Guidelines Apply)
Date Posted: 10/04/23
Position Location: Elk Grove Village, IL– Full Time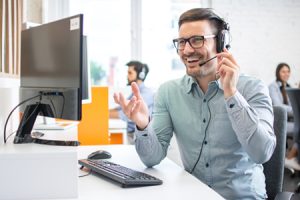 Bunting-Elk Grove Village located in Illinois, is a leading distributor of magnet materials and equipment serving a wide variety of industries. We have an immediate opening for an Inside Sales Representative. 
Responsibilities:
Represents Bunting Magnetics to customers.
• Facilitates communication with B2B customers and field sales staff.
• Taking phone calls and managing web chats in real time.
• Provides technical assistance to customers.
Receives and processes customer orders and quote requests.
• Manage inbox of Purchase Orders, customer questions, and customer request for quotes (RFQ).
• Assists customers by recommending appropriate Bunting Magnetic products to provide solutions to customer applications.
• Processing orders and providing customers with updates on existing orders.
• Web Orders – helping with out-of-stock parts orders. Communicating to customers and suggesting replacement parts.
• Communicates customer requirements to the estimating department for quotation.
• Communicates delivery requirements to Bunting personnel to facilitate proper shipping schedules.
• Submits orders to accounting department for credit approval via Billtrust.
• Confirms pricing and delivery with customers.
• Communicates orders to proper locations.
• Audits customer confirmation orders against internal orders for pricing, ship date requirements and specifications.
• Responds to customer requests by checking orders, delivery schedules and providing general sales information.
Outbound business development
• Organizing and fielding tradeshow and web leads.
• Managing and growing web accounts.
• Development of industry specific target accounts.
Interfaces with other departments to meet customer needs.
• Assisting with website product content to ensure information/pricing is displayed accurately.
• Responds to questions from other departments regarding specifications for orders and quotes.
• Assigns Return Material Authorization (RMA) numbers and completes necessary paperwork to facilitate customer returns.
• Coordinates approved customer product testing.
• Provides back-up support for other inside sales duties as required.
Additional Responsibilities:
• Excellent communication and to educate potential clients and provide existing customers with the company's products and services.
• Follow up on sales leads and quotes, and update CRM software with status, estimated close date, and the next steps of the sales process.
• Create and follow a listing of customers, prioritized to focus on those with the best potential
• Able to ask questions to properly understand the customer needs in order to technically recommend the right solution, and to understand why they are buying, their decision making tree, decision makers VS influencers, pain points, the competition involved, and what you need to do to close the business.
• Be able to sell value and solutions, compared to just features, against less expensive and/or established competition. Be a trusted advisor.
• Use Internet, Social Media, LinkedIn, and other avenues to uncover, research, contact, and close new and existing business. Be proficient in Microsoft office programs (Word, Excel).
Qualifications:
• Bachelor's degree in business or related field is preferred, or equivalent work experience.
• 3+ years of sales and/or direct customer service experience; preferably in a manufacturing environment.
• Proficiency in Microsoft Office required. • Experience working with CRM software (Epicor preferred, Salesforce a plus).
• Experience working with Zendesk chat software, SPS Commerce, or Billtrust a plus.
To Apply:
If you would like to send any additional materials, please email Human Resources.
Bunting reserves the right to disqualify employees with less than (6) months tenure in their present position. EOE