---
We are extremely thankful to all who stopped by our booth at NPE2018: The Plastics Show. We hope you learned how Bunting® Magnetics Co. can help purify your product and protect your equipment.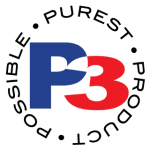 We can custom design nearly any product to exact specifications to fit your application or facility, or tie products together – such as a metal detector and material handling conveyor, or Eddy Current Separation Conveyor and HISC® High Intensity Separation Conveyor® – for a total material handling, metal-separating solution. Complete systems can also be designed, using several pieces of equipment for the Purest Product Possible – It's our P3 Promise.
---
Expand Production with Bunting® Equipment for Your Plastics Applications:
---
Our Featured Products
FF350 High-Temp FF Drawer Magnet
Rated to 350 degrees, the high temperature FF drawer magnet introduced at NPE 2018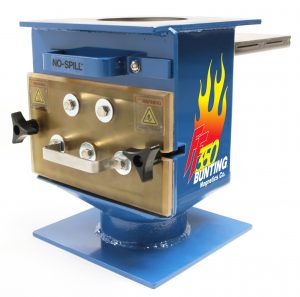 The Hi Temp FF drawer is most often installed above the opening of the molding machine and plastic resin passes through the drawer to remove ferrous contaminants. This ensures a cleaner, higher quality product. It also protects the molding machine from damage due to tramp metal. The Hi Temp FF drawer can be used in any plastic molding or extrusion application. Because the drawer sits at the opening of the molding machine, in applications where the resin needs to be dried and/or pre-heated above 300 degrees at the introduction to the molding machine, the magnets will be subjected to higher temperatures. In addition to the magnet upgrade, the Lexan viewing window has been replaced with a polycarbonate and the plastic knobs were redesigned to hold up under the higher temperature conditions.
Click on the image above for a 360⁰ view of the FF350 High-Temp FF Drawer Magnet
Grinder Feeder Conveyor with Metal Detector
Selecting and combining the proper equipment is essential to optimize the purification of product, maximize equipment output and protect it from serious damage and repairs. The Grinder Feeder Conveyor is used for shredding and grinding plastic purgings to scrap bumpers, stringers, carpet, wood pellets, plastic bottles, tires or even glass bottles or wood pallets. The GFC handles 1,000-10,000 pounds per hour and uses 6″ to 10″ pulleys. It's durable, with formed steel frame construction and offers multiple belt options with standard cleats or cleat-topped belts. By choosing to combine the GFC with optional metal detectors with flip gate reject of contaminant, infeed hoppers, magnetic pulleys or mobile bases, companies can design exactly the equipment it needs to achieve maximum separation and optimize product purity.
GFC Conveyor – Technical Specifications
HISC® High Intensity Separation Conveyor®
Separate paramagnetic and work-hardened stainless steel from your shredded metals and plastics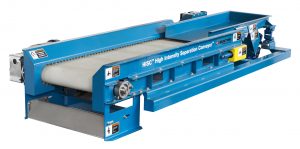 Until Bunting invented stainless steel separation, it didn't exist. With superior engineering and magnetic finite element design software technology, the HISC® High Intensity Separation Conveyor®  attracts, holds and extracts work-hardened 300 stainless steel metals and para-magnetic chips from plastic product stream to achieve product purities once thought impossible. The HISC incorporates extremely high gauss fields, neodymium rare earth magnets and a field-tested design to achieve maximum stainless steel separation. It attracts, holds and extracts some of the weakest magnetic materials, including razor blades, small computer screws, small stainless sheet metal from computer hard drives, tiny screws in plastic chips and green boards with attached chips.
Click here to read how the HISC® High Intensity Separation Conveyor® has helped a few of Bunting® Magnetics Co. customers.
HISC® Conveyor – Technical Specifications
| | |
| --- | --- |
| | Automatically detects all ferrous and non-ferrous metals without process interruptions by separating contaminated materials from product flow.   |
|   | Provides economical protection against tramp iron in mechanical or gravity conveying and processing systems |
|   | Features full-flow architecture that leaves the product stream unobstructed. Tapered transitions guide material directly over the face of the hinged plate magnet, which swings away from the housing for quick external cleaning.  |
|   | Designed to provide high strength magnetic protection for vacuum systems. It clamps directly into flexible hoses to capture ferrous tramp metal from bins, hoppers, and gaylords. The unwanted metal is pulled from the product line without the material flow being impeded. |